welcome to the Gomers' merch world. Their flagship releases:


Salt & Sugar - click for it
Sofa King Good on iTunes
Salt & Sugar on iTunes
Zombeatles
It's SOFA KING GOOD! Click to sit on on the Sofa
Sofa King Good is the Gomers' first major release - even though it's still home-made, one by one. We had CD baby selling it, but due to production time decided to let it roll into digital only--available on iTunes real soon! If you do want an official copy you can get it here.
NEW lower price!!!! The Gomers Basement Tape CD! Super thanks to Joel Ward for transferring this gem onto digital - beefed up at Beeftone - and you get 16 original songs (well, maybe there's kindof a cover in there, sorta) of the earliest of the Biff/Gordon/Gomers recorded material (previously only on cassette). Features the Piranha Face Demo, Pterodactyl Twist, Rock n Roll Party Band, Star Wars, Have A Nice Day Live, Toystore, Gordon's Thrasher, Flanger Fun, Brady Bunch Lounge, Foolish Youth on Bike, Hammerhead, I'm A Potato, I'm An Antenna and more - a fun listen and early window into the sonic mind of these Madhatters of Music. Only 5.99!
ALSO NOW AVAILABLE:



---




Gome03cd: live gome boot!
is a limited pressing, 74+ minute LIVE EVIL Gomer CD extravaganza the likes of which you've never heard! Basically a 'greatest live hits' over the past few years, this disc is rare, collectable and FUN!! Yep, it's worth twice it's price in fun factor alone. You get 19 crazyass tunes in inspired performances by the Gomebots: It's Not Unusual, a lovely "Sulu" featuring Tom Ryan on piccolo, "I Hate the Bank" featuring Geoff Brady on marimba, It Wasn't Human, I'm An Antenna, Fuzzy.com, Karnevil 9 (country style!), Thanks for the Ride Lady, The Sense of Smell, Star Wars, Touch Me, Afternoon Delight, Tanz Herr Whoren, My Dad the Pope, Bouncing the Goods, The Difference Between Salt and Sugar and many more. Again, limited release -- order yours now as these will be gone fast - just $9.99 !
* Also available at B-Side Records and Madcity Music in Madison, WI. *

---
---
Gome01cs -- The Gomers "Comin Atchya" cassette includes Jewish Rapper, Piranha Face, It's Not Unusual, Hammerhead, Sgt. Carter, Don't Put that Bag on your Face, more. Collector's item featuring Bill Feeny cover art and full lyrics. WE FOUND 10 more amazing!! A steal at only $5 a copy.
---
J&B45 -- Joey Saturn & Bob Uranus - "Like the Planet" 33/45 rpm single! 3 big, funky songs: Mi Piache, Talk to Me & The Car Song, a buddhist meditation to drive by. By Biff Blumfumgagnge & Dave Adler. Blue colored vinyl. $2.50
---
Cheap Vaporizers
Biff Solo CD is brand new for 2004 and delivers 18 songs for only $9.99! You'll get some Reptile Palace outtakes, lots of unreleased goodies like meditative, creative mando-violin duets plus some vocal songs with the trademark Biff humor - click the pic to learn more and hear free samples -


Biff Solo CD!




Fdlbk1 -- Improvisational Fiddle Studies Music book (to read aloud). Slide studies, left hand pizz and other exciting exercises to help you to improvise with Egyptian, Disco, Turkish, Jazz, Baltic, Gypsy, Rock, Mongolian and Arabic scales and TV Themes. Includes transcriptions (w/chords) to Biff's Jig, Giucheveska Racienitsa (with solo) and Pizzinecia. $7.00. free JPG Sample.

---
---
Everything we sell we guarantee!!
---


"The Human Cannonball hurtles over the circus crowd, grinning comfortably, waving, ass barbecued, headed for a hard landing Godknowswhere. These are the Gomers. They do this for you." - Jonathan Zarov, WORT 89.9 FM



---



If you prefer checks or money orders - contact us for that info or with any questions.


---
---
HPCD -- Headpump's "Org@sm.com" SORRY SOLD OUT.

Lydia, the Tattooed Lady Digital Sheet Music

Code: MNBEEF
Good For: 15% off any digital sheet music purchase

---
ROCKSTAR GOMEROKE live band Karaoke on Madison.com
Gomeroke Home
Gomers Home
Gomercast Podcast
Who the?
Steve + Biff = G L D
Reptile Palace Orchestra
Yammer me
Rockin' Gear
Mike Zirkel The Album: The Credits
Sheet Music
Gomers Clients


http://click.linksynergy.com/fs-bin/click?id=GHNjYHqQGxw&offerid=124003.10000511&type=3&subid=0" >Legendary Jazz concerts now available for download. Check out our archive of Newport Jazz Festival concerts.
http://ad.linksynergy.com/fs-bin/show?id=GHNjYHqQGxw&bids=124003.10000511&type=3&subid=0" >


Bob Marley Rolling Papers
Cheap Vaporizers
---
Gomers & Reptils on CDBaby
Enjoy The Melodicat!!!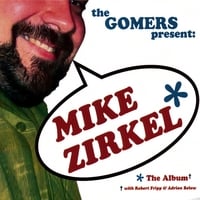 Join the Kiddy-oke email list